November 25, 2019 | Derek Irwin
2019 Harvest Barreled Down
This harvest was a doozy!
It was an unusual and very prolonged harvest. Mentally, it was very taxing.
Our Malbec came in as expected - about 3 weeks before the Cabernet Franc and Mourvedre. The Malbec was ripening just fine, but then we had the heavy early season rains and the ripening of our grapes just kind of stalled (as it did in vineyards throughout Northern California). Fortunately, Cabernet Franc and Mourvedre aren't as sensitive to rain as Malbec is. All three lots were picked at night and processed at our Napa winery before noon.
With all 3 lots we did what we have always done - a 2-3 day cold soak. Fermentation started spontaneously as we anticipated a fairly quick fermentation - particularly with the Malbec....and so it went. The Malbec fermented in 10 days, the Mourvedre and Cab Franc in 17 days. We had to heat the Mourvedre a bit to make sure it finished due to the fact that we had a few cold snaps during the peak of its fermentation. All 3 lots were pressed at near 0˚ Brix and sent directly to barrel for MLF (malolactic fermentation). I am currently performing the Battonage (lees stirring) on a weekly basis on these wines.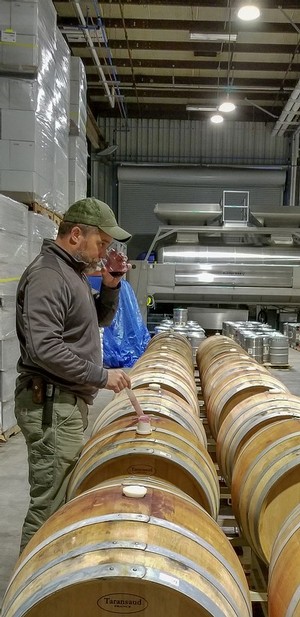 Comments
Commenting has been turned off.