Winemaker & Vineyard Blog
Enjoy our blog posts as we chronicle with Derek Irwin the making of our fine Sierra Foothill wines and the development of our vineyard at the Seminary and Novitiate of the Oblates of St. Joseph in Loomis.

It is February 2017 - time to begin the bottling the very first our 2015 harvest grapes.

Last week we bottled the first of our new "Sierra Foothills" wines, specifically our 2015 Sierra Foothills Zinfandel. We have created a Zinfandel blend that is truly unique. It is deep in tannin structure with an extensive middle pallet and a long finish that will beg the question - "how did they make that from Foothills grapes???".
While we won't release this incredible Zin until early April, Joe convinced me to include it in our wine club orders later this month. In fact, I might just bring a few bottles for sampling to our "Fat Tuesday" wine club dinner at La Fornaretta later this month. So, if you want to try it now, join one of our wine clubs!

The balance of our 2015 harvest wines will be bottled in the May. The photo below shows our 2015 wines spending their last few months aging in French oak barrels. Get ready for the summer and fall release of these outstanding wines...I know you are going to love them. Trust me, they will be worth the wait.

If you think I sound like a very proud father.....well, yes – I am!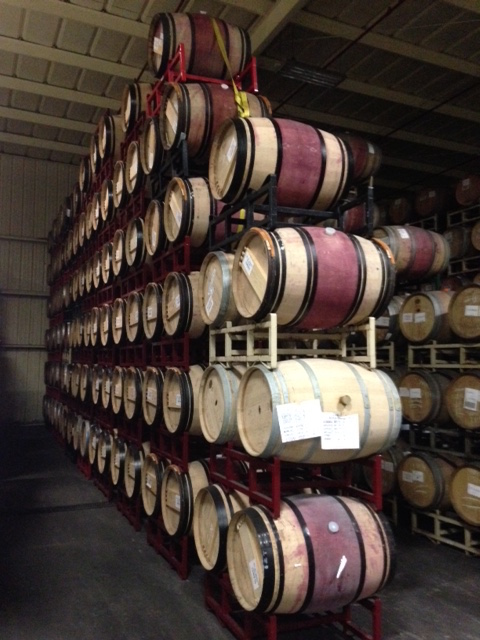 Last Tuesday Derek Irwin and I had the great pleasure of "playing" with eight different blends of our 2014 Zinfandel.......the experience of blending is a winemaker's delight - the final step in making the wine prior to bottling.
We started with 100% Amador Zinfandel - would we even venture to blend with this wine or would it be best as a "stand alone" wine? Time and our sampling process would tell. Our blender was an excellent El Dorado Petite Syrah.
From the 100% Zinfandel sample and taste, we progressed to 95% Zinfandel with 5% Petite Syrah....then 90% Zin/10% Petite Syrah....then 85/15....then 80/20.....well, you get the picture. After tasting and spitting each of these eight different blends, Derek and I finalized our selection (drum roll please)............the 90% Zinfandel/10% was the optimum blend.
This excellent 2014 Zinfandel (14% alcohol) displays loads of jammy berry fruit intermixed with earth and spicy oak. Dense and medium-bodied, with outstanding ripeness, this wine has a succulent, chewy texture with excellent purity. I certainly will enjoy this hedonistic fruit bomb over the next couple of years.
We will bottle just 55 to 60 cases of this limited production wine tomorrow in Napa. It is on website for purchase now but we will not ship until April 15.