January 4, 2023 | Joseph Smock
Everything You Always Wanted to Know About Cabernet Franc
At Mount Saint Joseph Wines we are absolutely crazy in love with Cabernet Franc! Beginning in 2020 we have harvested about 5 tons of Cab Franc grapes from St. Joseph's vineyard which Derek Irwin has crafted into our delicious estate 2020 Cabernet Franc (available now in our tasting room) and 2021 Cabernet Franc (to be bottled in March).
Spoiler Alert - we are also planning a Meritage blend using our Cab Franc in 2021 - stay tuned!
To understand our infatuation with this varietal, let's do a deep dive into its history, viticulture and growing regions as well as its flavor profile and the styles of wine it creates.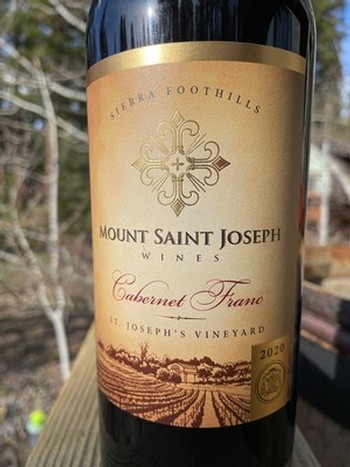 History
Cabernet Franc is best known as a parent of the Bordeaux varietals Cabernet Sauvignon (crossed with Sauvignon Blanc), Merlot (crossed with Magdalene Noir de Charente) and Carmenere (crossed with Gros Cabernet). Talk about a prolific parent.... Bordeaux owes much to Cabernet Franc!
While records of Caberent Franc in Bordeaux go back to the 18th century, it did not originate there. Cabernet Franc is native to Spain's Basque country and the clone known as acheira. It later spread over the Pyrenees into Bordeaux where it parented the Bordeaux varietals above and has played a prominent role in Bordeaux blends.
France's 17th century Cardinal Richelieu was very enamored of Cabernet Franc and took cuttings from Bordeaux to the Loire Valley where it then created the hallmark Chinon, Saumur-Champigny and Bourguiel wines. Cardinal Richelieu died on December 4 which is now celebrated as international Cabernet Franc Day.
Viticulture and Growing Regions
While similar to its offspring, Cabernet Sauvignon, Cabernet Franc is lighter skinned with winged, medium sized bunches and smallish blue-balck berries. It both buds and ripens and earlier than Cabernet Sauvignon. The vine is fairly vigorous with an upright growing habit and dark green, 5 lobed leaves. Cab Franc is an adaptive varietal and thrives in a variety of climates and soils.
While Cabernet Franc is planted around the world including Italy, Hungary, Chile, South Africa, China and the United States, about 70% of the Cab Franc in the world is planted in France. About 5% of the Cab Franc in the world is in California with most of that planted in Napa and Sonoma. Paso Robles has recently become known for its Cabernet Franc. Interestingly, the varietal is catching on in cooler areas of the U.S. including Long Island, Colorado, the Columbia Valley in Washington state as well as Canada.
Interesting note....Madeline Puckett, author of the book Wine Folly, states the our own Sierra Foothills AVA is becoming known for producing interesting, high quality Cabernet Francs. We couldn't agree more!
Here are some photos of our Cabernet Franc vines in St. Joseph's vineyard.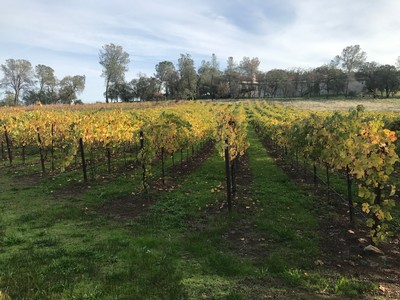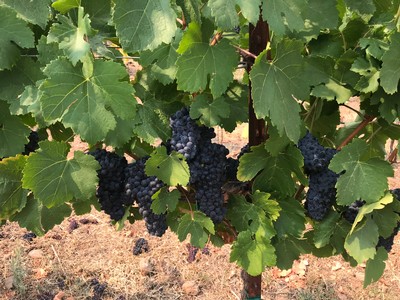 Flavor Profile and Styles of Cabernet Franc
While Cab Franc typically tastes of red fruits - strawberry, red plum, rasberries - it can also carry hints of black fruit including mineral blueberry. Cooler vintages produce Cab Franc with sour cherry and strawberry flavors while warmer climates can generate black rasberry. The adaptive nature of the varietal creates a range of flavor profiles and styles eminating from the climate and soil where it is planted. Secondary flavors can range from roasted pepper, crushed gravel and sage to dark chocolate and black licorice.
Cabernet Franc is typically medium bodied with medium tannins and acidity. In the spectrum of Bordeaux varietals it sits between the fleshy Merlot and structured and intense Cabernet Sauvignon.
2020 MSJ Estate Cabernet Franc
Our 2020 Estate Cabernet Franc is the first vintage from our St. Joseph's vineyard in Loomis. It is medium bodied with nicely balanced tannin and acidity. Ready to drink now, it is loaded with currants adn ripe strawberries. From the mid-pallet through the finish you can detect bramble, juniper and a slight bay leaf aspect.
Please come to our tasting room to enjoy our 2020 MSJ Estate Cabernet Franc!
Comments
Commenting has been turned off.