July 12, 2018 | Peter Story
Blending Our 2016 Sierra Foothills Wines
I spent a great day at the winery with Derek yesterday as we dreamed, created and then finalized on the blending of some of the best wines we have produced to date.
With the July 26 bottling date just a few weeks away we completed the most fun part of winemakeing - that is putting together the final blending for our first 2016 varietal offerings - the Sierra Foothills Zinfandel, Sangiovese and Syrah.
We tasted comination after combination after combination before we settled on these tasteful blends:
Zinfandel - 88% Zinfandel, 12% Syrah
Sangiovese - 85% Sangiovese, 10% Cabernet Franc and 5% Syrah
Syrah - 80%,15% Mourvedre and 5% Petite Syrah
I almost feel guilty that I brought home the remaining half full 750ml bottles of these blends to taste over the next 48 - 72 hours.....I want to see how they open up. It's a tough job but someone has got to do it.
P.S. - we won't release these wines for quite some time but......we just released the absolutely amazing 2015 Cabernet Franc, 2015 Malbec, 2015 Petite Verdot and 2016 Marello. They are all available at our new Granite Bay tasting room Vin Uva in our Limited Release tasting flight!
Oooops - I wasn't supposed to tell you that today is our "soft opening" of Vin Uva (we only sent the email to wine club members for now). Don't tell Joe and Henry.........I figured that any of you who read my blogs deserve to be the first to visit us at 8629 Auburn Folsom Road in Granite Bay!!!!!!
Cheers,
Peter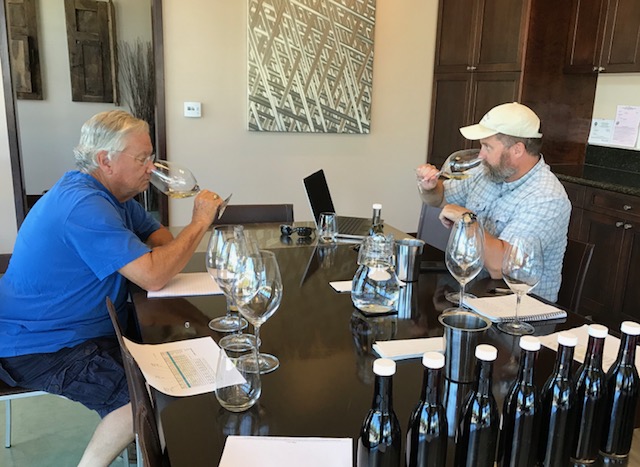 Comments
Commenting has been turned off.