April 4, 2016 | Peter on Winemaking | Peter Story
Our 2014 Zinfandel is Blended
Last Tuesday Derek Irwin and I had the great pleasure of "playing" with eight different blends of our 2014 Zinfandel.......the experience of blending is a winemaker's delight - the final step in making the wine prior to bottling.
We started with 100% Amador Zinfandel - would we even venture to blend with this wine or would it be best as a "stand alone" wine? Time and our sampling process would tell. Our blender was an excellent El Dorado Petite Syrah.
From the 100% Zinfandel sample and taste, we progressed to 95% Zinfandel with 5% Petite Syrah....then 90% Zin/10% Petite Syrah....then 85/15....then 80/20.....well, you get the picture. After tasting and spitting each of these eight different blends, Derek and I finalized our selection (drum roll please)............the 90% Zinfandel/10% was the optimum blend.
This excellent 2014 Zinfandel (14% alcohol) displays loads of jammy berry fruit intermixed with earth and spicy oak. Dense and medium-bodied, with outstanding ripeness, this wine has a succulent, chewy texture with excellent purity. I certainly will enjoy this hedonistic fruit bomb over the next couple of years.
We will bottle just 55 to 60 cases of this limited production wine tomorrow in Napa. It is on website for purchase now but we will not ship until April 15.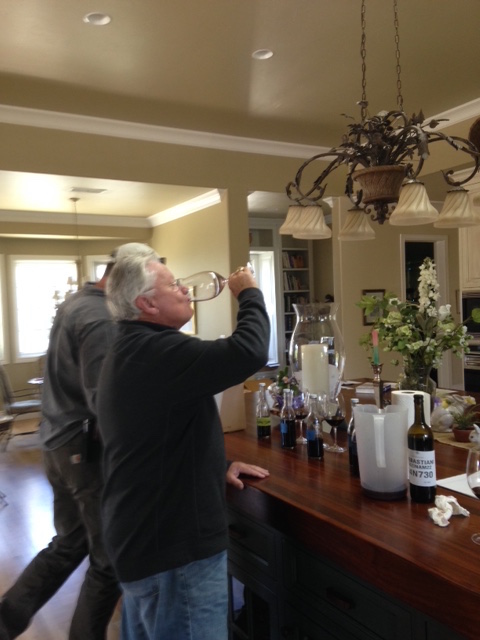 Comments
Pame laattie
@ May 11, 2017 at 9:39 AM
For a considerable length of time, European ranchers have made mixed holy and ordinary wine by gathering and maturing whichever grapes were planted in their fields. In spite of the fact that unprecedented, the custom of making field mixes proceeds with today in winemaking locales around the globe. At the point when European workers trying to hit it rich with gold moved to California in the mid 1850s, some carried indigenous vine cuttings with them, similar to Hungarian tally and Buena Vista Winery author Ágoston Haraszthy
karla5morin25.jimdo.com
@ May 19, 2017 at 3:11 PM
I will immediately clutch your rss feed as I can not find your email subscription hyperlink or e-newsletter service.
Do you have any? Please allow me realize in order that I could subscribe. Thanks.
foot pain identifier
@ Jun 21, 2017 at 3:13 AM
Hello my friend! I want to say that this article is awesome, nice written and come with approximately all significant infos. I would like to peer extra posts like this.
https://www.dissertationhub.co.uk/
@ Nov 13, 2018 at 4:23 AM
In the mid-1950s, when European workers tried to create the rich land with gold, some people carried earthy grape cuttings, similar to Hungarian curry and Buena Vista winery author Ágoston Haraszthy.
WWW.CustomAssignment.Com
@ Dec 6, 2018 at 2:11 AM
I really like, for reds, the Rosso, by Coppola - it is a blend of three different types of grape varietals and is delicious. The best price is at Trader Joe's if you have one close to you.
Vish Ya Amrit Sitara
@ Mar 18, 2019 at 7:31 PM
Thanks for picking out the time to discuss this, I feel great about it and love studying more on this topic. It is extremely helpful for me. Thanks for such a valuable help again.
Shakti Prash
@ Mar 19, 2019 at 6:45 PM
I am unable to read articles online very often, but I'm glad I did today. This is very well written and your points are well-expressed. Please, don't ever stop writing.
best metal detector made
@ Mar 20, 2019 at 8:29 PM
Pretty good post. I have just stumbled upon your blog and enjoyed reading your blog posts very much. I am looking for new posts to get more precious info. Big thanks for the useful info.
Marketo Implementation Plan
@ May 7, 2019 at 6:01 AM
I was looking up Zinfandel's under older questions and Lisa H. hit it right on.. Wild Horse and my favorite, A. Rafanelli from Dry Creek.. If you can't spend a lot of money, Cline makes a nice wine which is a blend.