May 17, 2017 | Peter Story
Sierra Foothill (red label) Zinfandel is Yucky?
Recently Joe relayed some feedback from a few of you that was disturbing. After opening and tasting the 2015 Sierra Foothills Zinfadel, a few of you said it was "Yucky".
I told Joe..."Yucky - what do you mean, yucky????". This wine was great when we bottled it back in February!
So Derek and I decided to taste it last Thursday.....and, sure enough, it was yucky. Perplexed at the difference in taste between bottling in February and the present, we decanted the wine and let it alone for 20 minutes and tasted it again. This time the middle pallet was coming back with the fruit that we had remembered from bottling time. We then tasted four hours later....now, that was more like it! Finally, later that night at dinner I had a glass with the short ribs Paulette had made - "yucky" wine had become great wine.
We have pulled the 2015 Sierra Foothills Zinfandel off the market for now and we will release it again in September. The additional four months of bottle aging will allow the complex elements in the wine that have become disjointed to recombine. For those of you who have a bottle from your February wine club shipment, here are your options:
If you haven't opened the wine, lay it down until October/November and then open and decant and enjoy!
If you have opened the wine and it tasted "yucky", let me or Joe know and we'll get you a new bottle and you can follow #1 above
While I won't go into detail about the business reasons for releasing this wine sooner than we ordinarily would, we have learned from the experience and will now follow the words of Orson Welles (Paul Masson ad circa 1979):
"We will sell no wine before its time"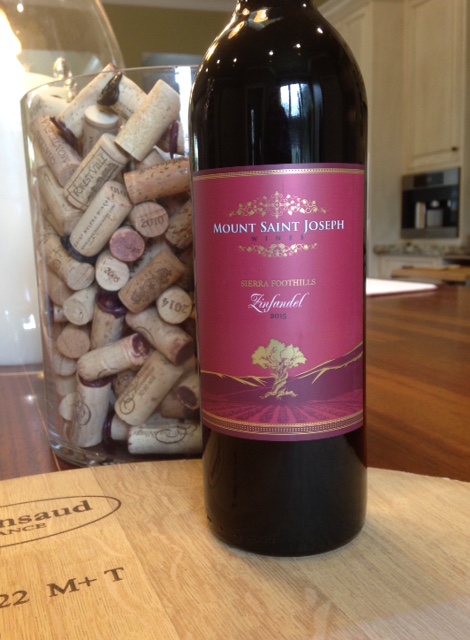 Comments
https://ukessaysreviews.com/ukwritings-com-review/
@ Oct 19, 2018 at 5:33 AM
Yes, government should litigate against those teachers who just make fun in educational institutes and don't teach the kids seriously. These sorts of tutors are extremely bad for children and for the welfare of the human beings as they destroy the future of the world.
MichaelBarker
@ Nov 27, 2018 at 5:36 AM
An abundance of exceptional wines from an extensive variety of grape assortments doesn't imply that all's brilliant in the Sierra Foothills. With rather separated wineries and negligible criticism from the customary wine exchange, fair and once in a while defective wines get lost in an outright flood.
varsah
@ Mar 20, 2019 at 12:29 AM
Great Article!Thanks for sharing with us.
neurologists
@ May 1, 2019 at 10:50 AM
Kinda arbitrary yet would you mind making a companion and taking me chasing at some point? I live in Sacramento and would love to get familiar with mushrooms
movers and packers
@ Jul 20, 2019 at 12:16 AM
packers and movers Delhi to Bangalore
www.bdjscresult2019.com
@ Nov 14, 2019 at 7:19 AM
Apart from all these process students can collect their results from their individual institutions they belong to. But in this process, it will take some time to get the result. For getting the result as soon as possible, it better to follow the first three processes.