Winemaker & Vineyard Blog
Enjoy our blog posts as we chronicle with Derek Irwin the making of our fine Sierra Foothill wines and the development of our vineyard at the Seminary and Novitiate of the Oblates of St. Joseph in Loomis.

In the early morning hours of Monday, August 24, over two dozen Mount Saint Wines owners completed our historic first harvest at our vineyard in Loomis. By 7 a.m. we had over two tons of Petite Sirah harvested and loaded onto Cordell's trailer for the trip to our Napa winery.
Our Cabernet Franc is moving along nicely and should be ready for harvest around the middle of September.
For many of us who have been working steadily in our vineyard these last four years caring for and nurturing these beautiful young vines it was a very, very special morning. Please take a minute and enjoy these terrific photos from Jim Rogue and Paul Coble that capture the energy and joy of our first harvest.
Two of our "master pruners" - Mike and Carla - admiring and harvesting the "fruits of their labor"........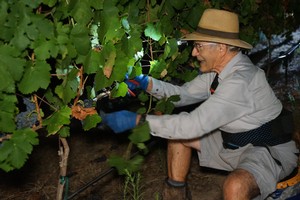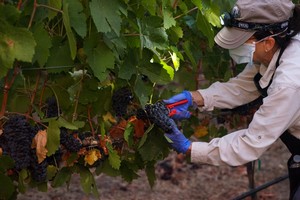 It was pretty dark at 4 a.m. and our headlamps provided most of the light needed to safely harvest these precious grapes.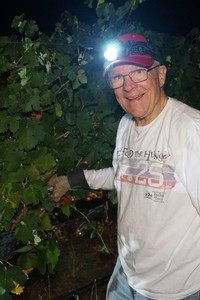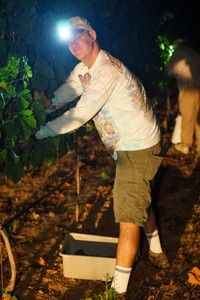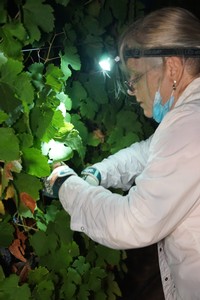 We loaded lugs and buckets and carried them to the harvest bins where leaves and stems were removed and dry ice applied to keep the grapes cool.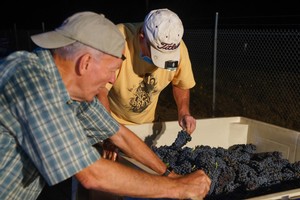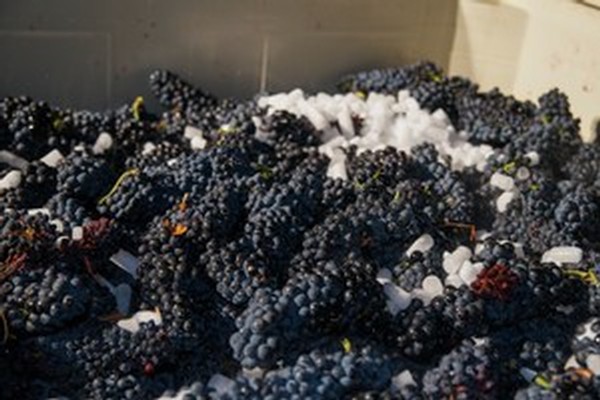 The spirit of our owners was amazing. Broken backs, chemotherapy, COVID19, fires, record heatwaves.....nothing would stop us from our mission.......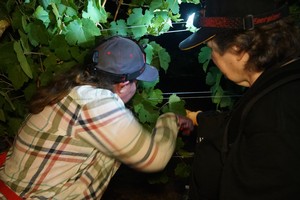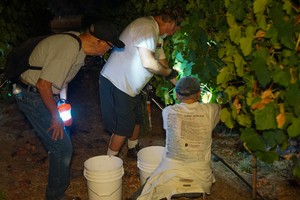 Here we are loading and securing our precious harvest on Cordell's trailer (pulled by his gorgeous brand new pick up). Next stop - our Napa winery!!!!!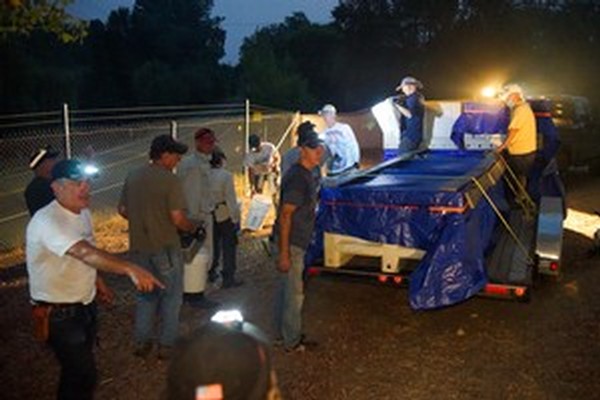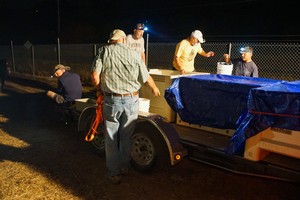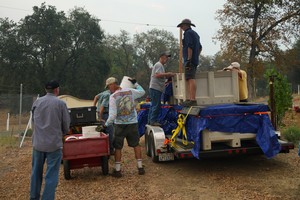 Please stay tuned as our Petite Sirah completes fermentation and we move closer to harvest of our Cabernet Franc later this month!!!!

While this may be a "Lost Spring" for so many of us as COVID 19 has isolated us in our homes, our vines are oblivious to our pain and suffering. This is Year #4 in our vineyard's development and it is a very special year. This will be the year of our first harvest and the making of our first Mount Saint Joseph Estate wines.
For a few of our owner volunteers who have assisted this Spring, the vineyard has been a quiet refuge from the lonlieness and anxiety of the pandemic. Take a short journey with us over the past few months.........
We were very busy almost every day in February as we did the final pruning of our vines, retied their trunks and most importantly selected and tied the lateral cordons to the cordon wire.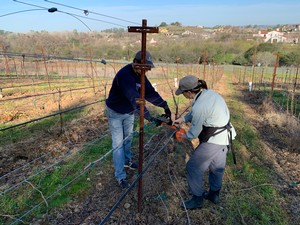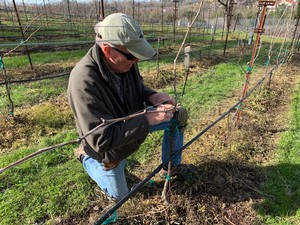 We finished our work just in time. March brought us bud break - that amazing time that the vines begin to awake from their winter slumber. First the buds begin to swell and gradually begin to burst as the green tips emerge. First to break was the Petite Sirah, followed closely by the Petit Verdot. The Cabernet Franc continued to snooze and finally decided to wake up in late March.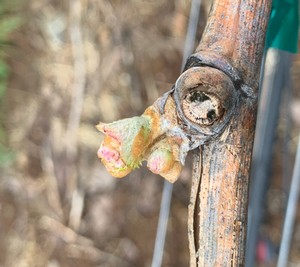 April brought the beginning of the growth stage with leaves unfolding as one, two, three, four....nine and more leaves emerged. As the leaves emerged so did the beautiful poppies sprinked about the vineyard. We were far more than spectators as we worked day after day to sucker unwanted vines and tuck those that we wanted behild the trellis wires to encourage a vertical growth habit.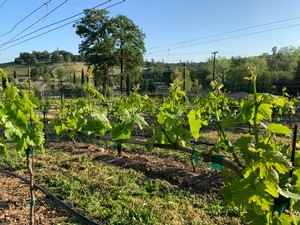 Of course in April, not only did those Spring rains bring vigor to our vines, the rains brought vigor to unwanted weeds so....our owner volunteers spang into action as we mowed and weed whacked to give the vineyard that well kept, manicured look.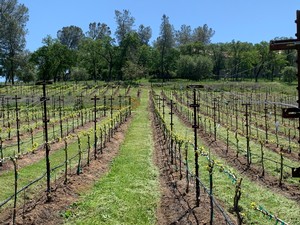 Now, in May, we have seen the first indications of coming grapes - the inflorescence emerges, followed by the flowering and falling off of the caps and the emergence of the young fruit. Again, it was the Petite Sirah and Petit Verdot leading the way with the Cab Franc a week or two behind.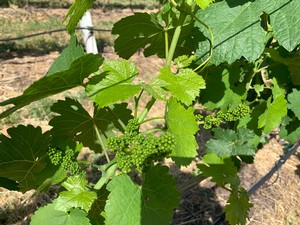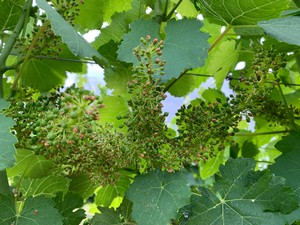 June will be busy as we continue to postiion shoots and prune off unwanted laterals. Fruit will continue to develop as the clusters grow and begin to change color in veraison. Stay with us as we chronicle this first harvest season. Of course, we are guided every step of the way by the incredible Derek Irwin.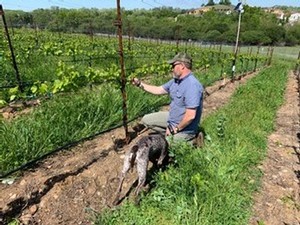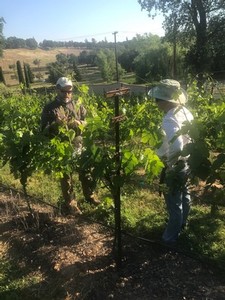 Finally........our 2019 harvest is in!!!
This morning, under an absolutely beautiful harvest moon, we picked our Mourvedre and Cabernet Franc grapes. While some funky fall weather and four days of PG&E power outages made things "interesting", the grapes are fabulous and well worth the wait. We loaded just over 4 tons on the truck this morning and the Mourvedre and Cab Franc grapes have just arrived at the Napa winery. There they join the Malbec the we harvested in late September. The Malbec has taken its sweet time completing fermentation but is now just about bone dry.
2019 marks our 5th Mount Saint Joseph Wines harvest at Naggiar Vineyard. My goodness.... how time flies! Next year - 2020 - will be very special for us as it will be our first harvest at our own Loomis vineyard at Mount Saint Joseph. Stay tuned for vineyard developments there as the new year unfolds!