Winemaker & Vineyard Blog
Enjoy our blog posts as we chronicle with Derek Irwin the making of our fine Sierra Foothill wines and the development of our vineyard at the Seminary and Novitiate of the Oblates of St. Joseph in Loomis.

Forgive the corny Doris Day inspired title to this blog - that was Joe's idea.
Our 2016 Syrah is now fermenting away. The brix level started at 24.8 and is now at 6.3 brix. We have about four days to go before we let it macerate in the fermentation bins to extract even more tannins and classic syrah flavors. This will be a very jammy Syrah.
I look forward to this wine be a key part of the 2016 Marello blend. It will also be a stand-alone varietal offering as well - maybe an early release next year.
Stay tuned as I continue to keep you updated on our 2016 harvest and winemaking.....off for now!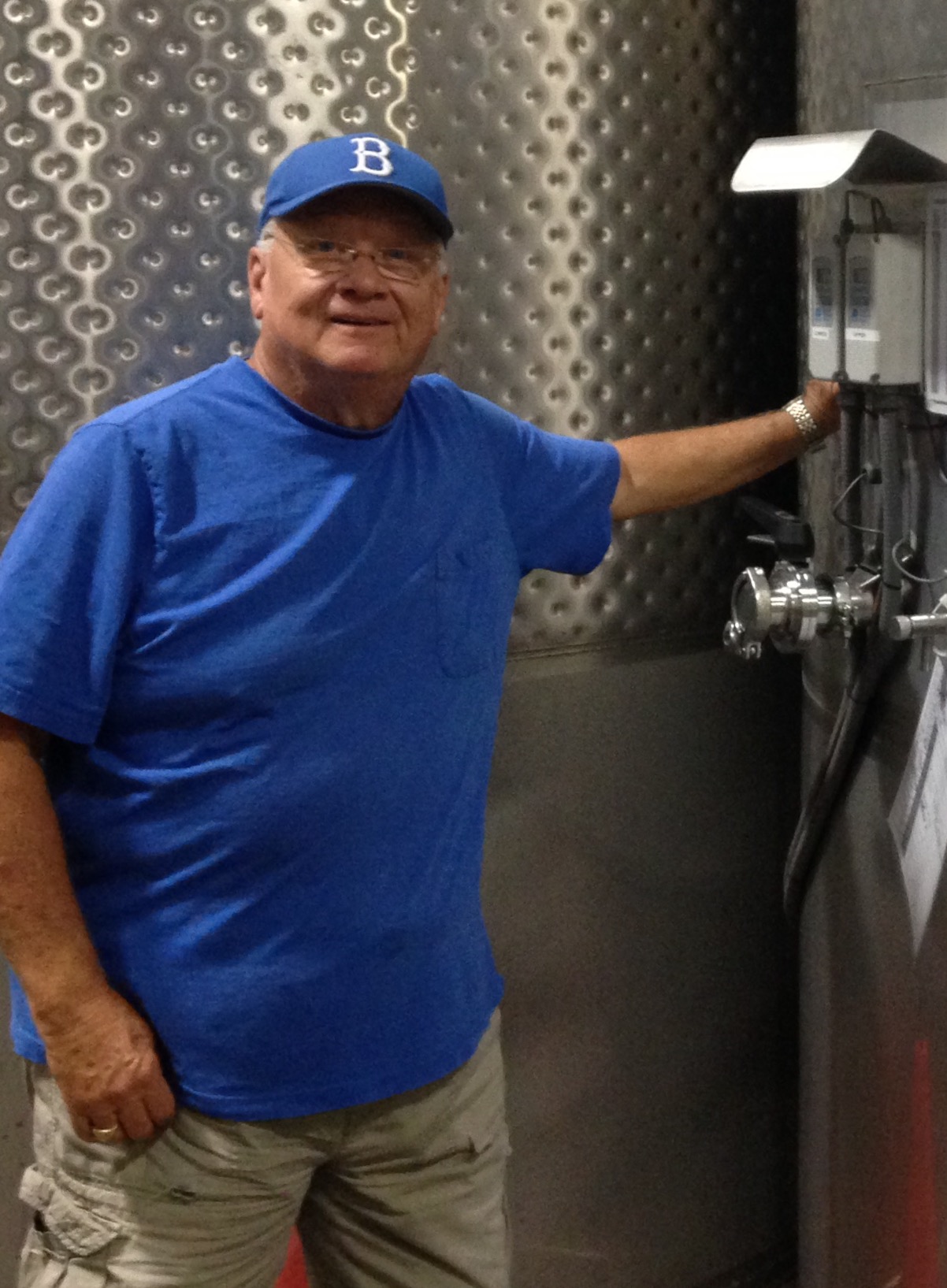 Peaches and Dessert Syrah - Delicious!
OK - the cat is out of the bag....many of you have asked if we will ever offer a dessert wine.... the answer is an emphatic "Yes!". With the addition of a wonderful 2009 Syrah Dessert Wine to our Mount Saint Joseph portfolio of wines - you will now be able to finish your meal or your evening with this delightful wine. The photo below is of me enjoying a nice bowl of fresh white peaches with our new dessert wine drizzled on the top.....wow, the taste is delicious. I must admit though, the combination was Paulette's idea, not mine.
I heartily invite all of you to follow suit and try your own summer dessert with this great Syrah Dessert wine.
Stay tuned - we'll let you know as soon as it is available!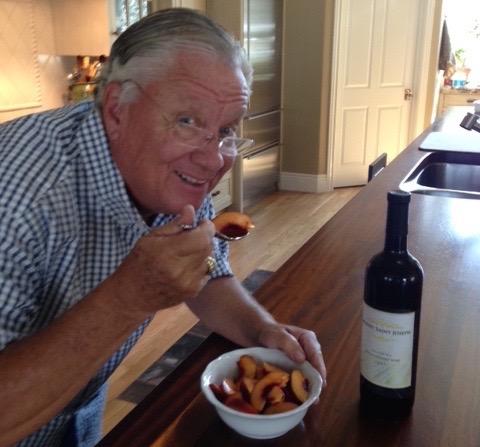 Attention to Detail Means Optimal Fruit at Harvest
Our vineyards up in Grass Valley have been hit with an unusual degree of "Powdery Mildew" this season….Powdery Mildew is a common condition in vineyards throughout the world but.... In speaking with Derek Irwin, our consulting winemaker from Napa, it seems that this problem is rampant in Napa, Sonoma, Placer and El Dorado counties… The best we can do is stay on an every 2 –to- 3 week regiment in spraying with systemic sulfur and drop the damaged clusters so as to limit the infestation. By the way.....the application of sulfur is an organically acceptable and sustainable method of treatment.
The photo below shows me at the vineyard (like my stylish boots?), lending a hand in dropping fruit. This attention to detail will insure that the fruit we get at harvest will be of the highest quality.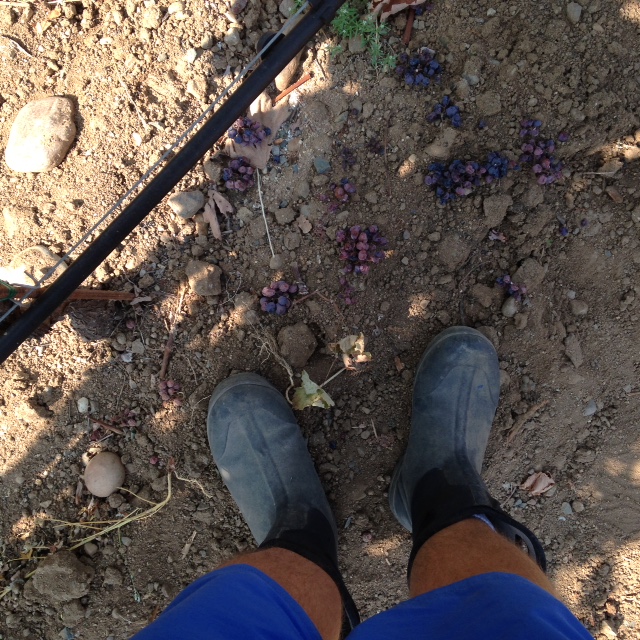 Former Spago and Roy's chef, Irie Gengler, is impressed with Mount Saint Joseph wines........
Presenting our wines to a world class restaurateur is always exciting (with a note of anxiety)… what will he/ or she think??? Since food and wine is their world – what will they think of the wines we have crafted (and are so proud of)?? Will they buy them???
Well, Joe Smock and I had our first entrée into this important part of our company's business plan. A few weeks ago we shared our wines with 'Source Tapas' chef/ owner – Irie Gengler. Source Tapas is an incredible gathering place for the Granite Bay. Loomis and Roseville customers who want to sample 'small plates' and have many taste sensations to play with the wines they select.,
After the tasting Irie elected to carry our wines. Source Tapas will be the first (of many we hope) local restaurants who will proudly serve Mount Saint Joseph Wines. You will be able to pair our 'Marello',,, Zinfandel,,, Cabernet Sauvignon and Chardonnay wines with Source Tapas extensive menu.
Check them out. Source is in Quarry Ponds – 5540 Douglas Blvd., Suite 110, Granite Bay. Telephone Number: 916-772-3900 .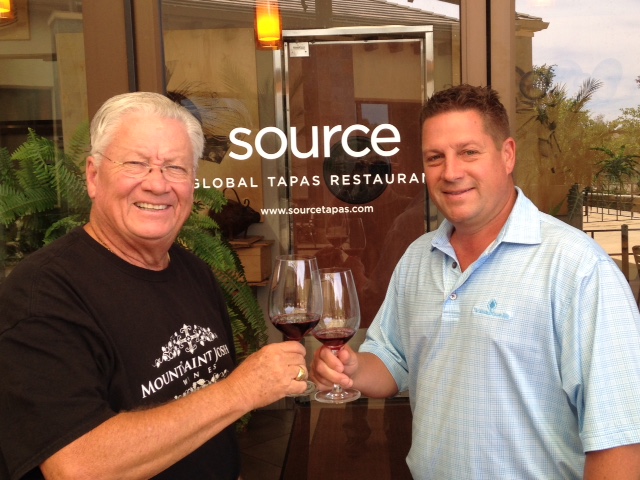 Barrel tasting has never been so much fun for me in my 25 years of winemaking.
Every month... Derek Irwin ( our Consulting Winemaker ) and I spend a few hours smelling,,, sipping,,, spitting,,, and yes,,, tasting all of our 2015 harvest wines that are aging down at Napa Barrel Care in Napa, California. The advancement and transformation of a few of our wines is dramatic... I have fallen in love with our Syrah, Cabernet Franc and Malbec. I am thinking of bottling 'Varietal Level Wines',,, as well as using them to blend with other offerings next year… We'll see!
Joe and I have also decided to offer this experience to one of our wine club members who have signed up for one of our wine clubs (Owners Club, Marello Club or California Club). That winner (selected by the name-in-the-hat manner ) will taste our barreled wines with Derek and I and then join Paulette & me in Napa....at the fantastic French Bistro – Angels. The selected owner can also bring a guest of their choosing. The selection will be made at the Blessing of the Vineyard event on June 12th. Make sure you attend so everyone can congratulate you and your guest.
An opportunity to barrel taste our 2015 harvest wines in Napa.....just one more reason to join one of our Wine Clubs!
Off for now… will talk to you in a few weeks.
Peter

Our final bottling for calendar year 2016............
On Tuesday we completed the last of our California series offerings........my Zinfandel blend finished out with 58 cases of what turned out to be a really tantalizing red wine. Yes - it is still a Zinfandel in every respect - but the addition of the Petit Syrah made this wine ever so lively. I'm now a fan of Zinfandel.....unlike days gone by, like so many of us Napa brats who turn up our noses at anything but Cabernet Sauvignon, I have come to open myself to the great potential of Zinfandel blends and expand my winemaking capabilities and tastes for more than just Cabernet Sauvignon.
The crew at Napa Barrel Care (where we bottle our wines) is focused with a sharp eye for quality control throughout the entire bottling process. Nothing gets by them in bringing my blend-in-the tank to life in the bottle. I feel like a proud Papa as life is given to yet another offspring of Mount Saint Joseph Wines - our 2014 Califonria Zinfandel is born!

Last Tuesday Derek Irwin and I had the great pleasure of "playing" with eight different blends of our 2014 Zinfandel.......the experience of blending is a winemaker's delight - the final step in making the wine prior to bottling.
We started with 100% Amador Zinfandel - would we even venture to blend with this wine or would it be best as a "stand alone" wine? Time and our sampling process would tell. Our blender was an excellent El Dorado Petite Syrah.
From the 100% Zinfandel sample and taste, we progressed to 95% Zinfandel with 5% Petite Syrah....then 90% Zin/10% Petite Syrah....then 85/15....then 80/20.....well, you get the picture. After tasting and spitting each of these eight different blends, Derek and I finalized our selection (drum roll please)............the 90% Zinfandel/10% was the optimum blend.
This excellent 2014 Zinfandel (14% alcohol) displays loads of jammy berry fruit intermixed with earth and spicy oak. Dense and medium-bodied, with outstanding ripeness, this wine has a succulent, chewy texture with excellent purity. I certainly will enjoy this hedonistic fruit bomb over the next couple of years.
We will bottle just 55 to 60 cases of this limited production wine tomorrow in Napa. It is on website for purchase now but we will not ship until April 15.