Winemaker & Vineyard Blog
Enjoy our blog posts as we chronicle with Derek Irwin the making of our fine Sierra Foothill wines and the development of our vineyard at the Seminary and Novitiate of the Oblates of St. Joseph in Loomis.


My oh my….how quickly my newborn "Baby Girls" (our vines) are growing! It was less than a month ago when we planted over 3000 dormant vines (like bare root roses - no sprouts, no buds - just a root stock with a grafted vine). Now these baby vines are reaching up toward the heavens and breaking through the tops of their 18" protective grow tubes - I call them "milk cartons".
Of course, our vineyard job was not finished once the vines were planted. Since that time my vineyard owner volunteers (Bob Vandervort, Allen Cummings, Henry Favro, Mike Delaurentis, Dave Beiler, Tim Mabie, Dave Fox, Joe Smock and Rick Tlustosch) have been very busy helping with weed whacking, rock removal, vine replanting, discing and other vineyard chores in the 100 degree heat. Kudos to all of them for their hard work!
The hard work has certainly paid off. If you haven't driven by lately, take a trip down Wells Avenue and see the transformation. Mount St. Joseph has always been a pretty sight and now, with our "Baby Girl" vines in the vineyard, it is even more beautiful!!!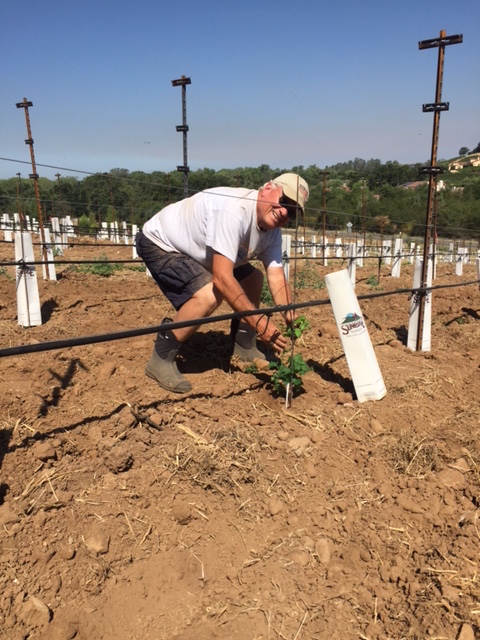 "When will the vines go in?" If I had a dollar for every time I've been asked that question over the last few months........
I spent a good deal of time explaining the delayed planting due to the extended rainy season. The fact that we are a very small customer competing with the vast Napa clientele who wanted their vineyards planted exacerbated the situation but...who cares?
Finally, we planted our 3000 vines on June 28. Eight young men from Napa did the work in an amazing time. I only wish we had that kind of vineyard talent here in the Foothills.
If planting the vineyards was not enough, the following day, June 29 - a crew of six men placed all of the 18" cartons over the vines to initiate the first growth (a nursery "hot house" effect) as well as keeping the rabbits and deer away.
Stay tuned for next weeks blog as we anticipate the first vine shoots!
A farmer's day is never over till it's over (Yogi Berra with a Peter Story twist)
Peter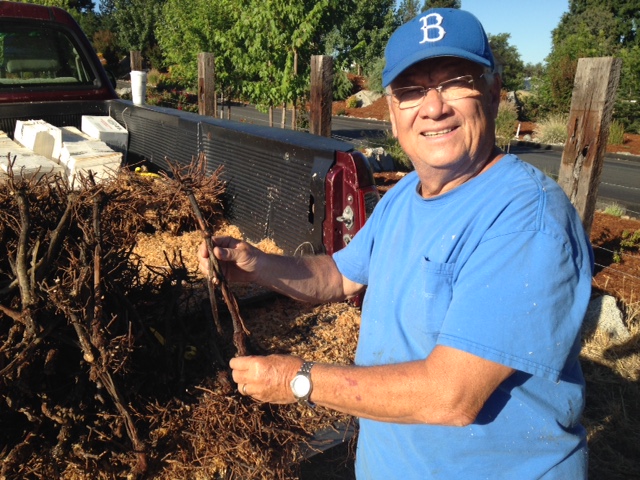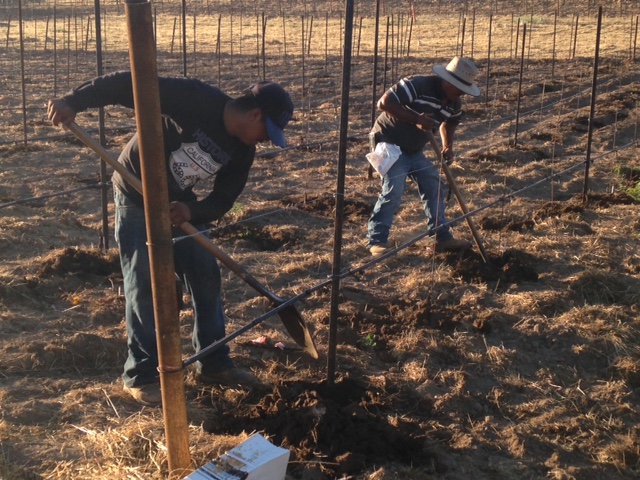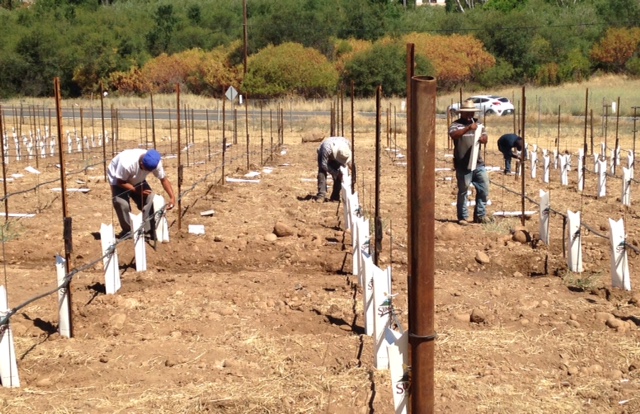 It is Saturday morning and the irrigation work continues. In the the first photo below....a techncian wires in the irrigation control valves. In the second........a worker installs the drip emitters along one of the vine rows. Soon we will have water, water everywhere......and soon after that our grape vines!
Cheers!
Peter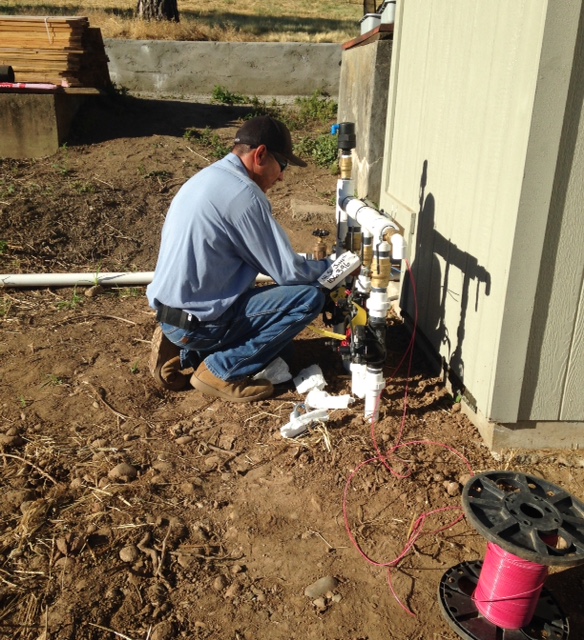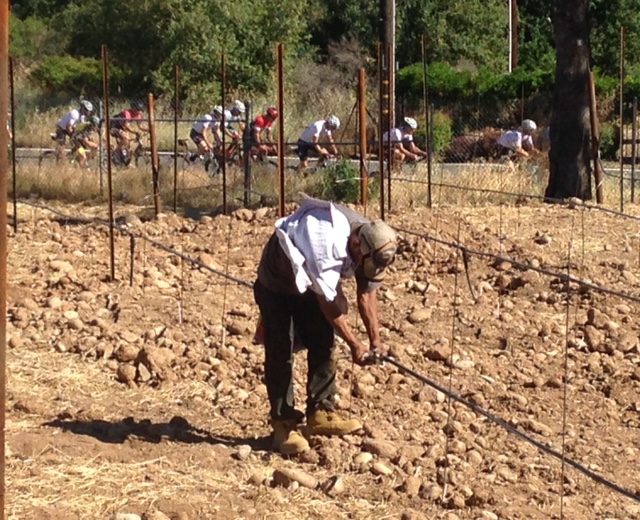 Wow - what a great day we shared on Sunday, June 4!
Fr. Phil Massetti blessed our vineyard while 180 owners, wine club members and guests joined the celebration. We had a perfect day for the blessing ceremony and followed it up with great food and great wine in the Marello Youth Center. If you couldn't join us this year, below are a few photos from the event.......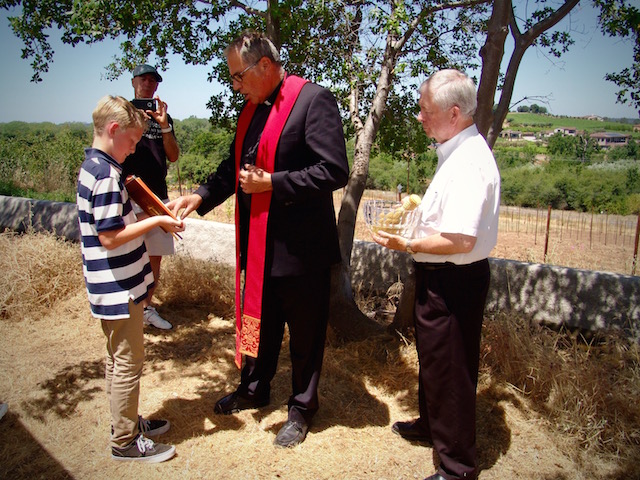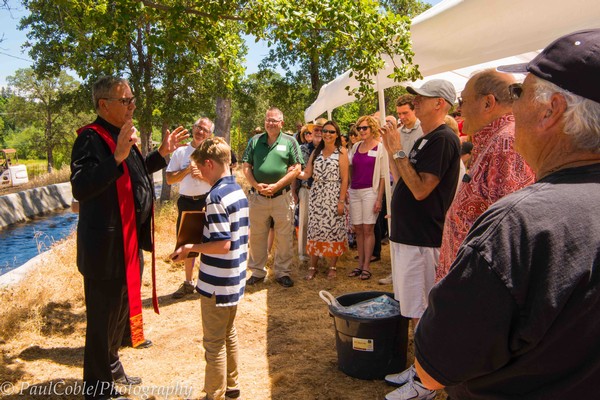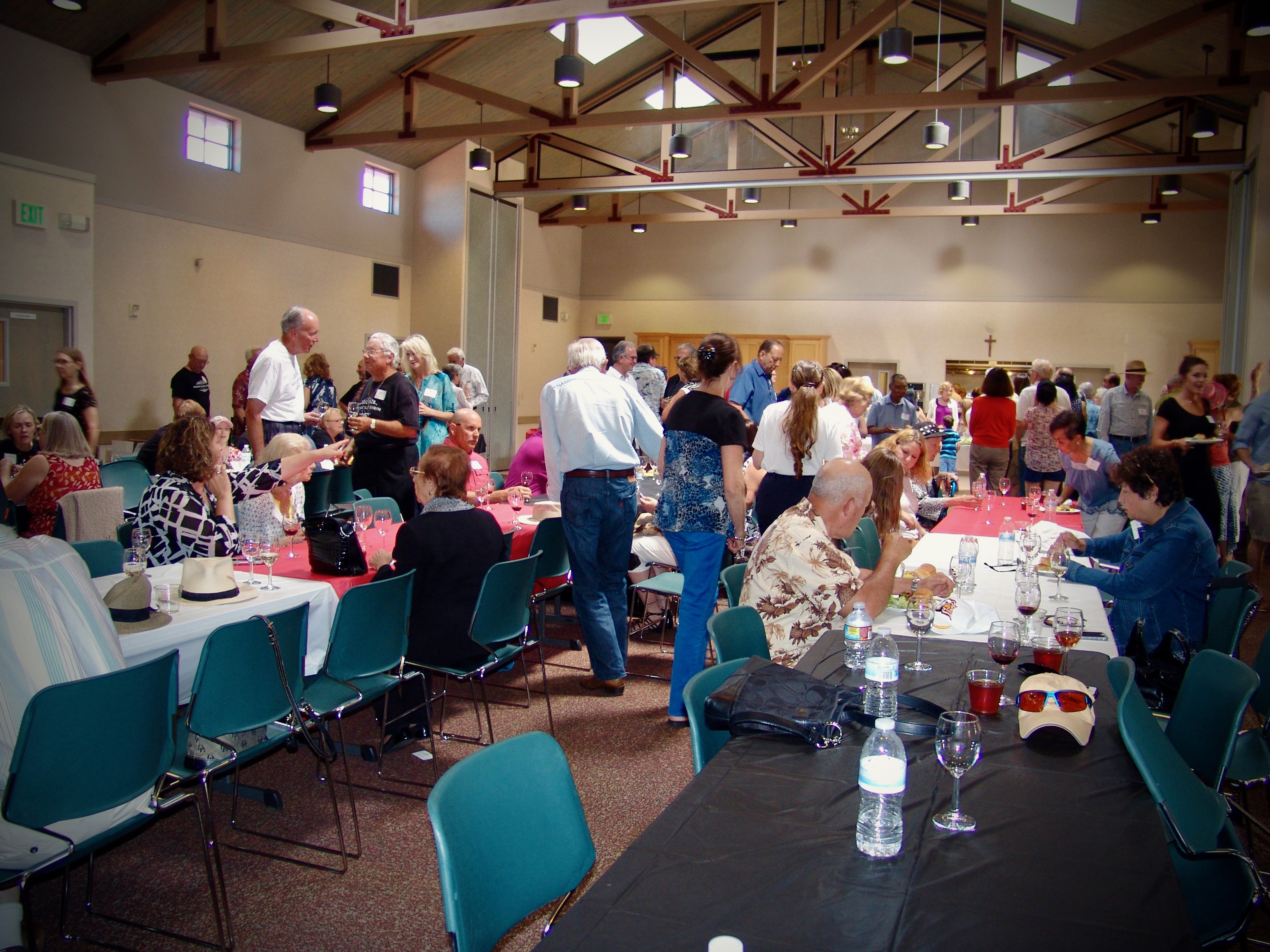 We have been working hard since then to get the vineyard ready for the planting of our vines in a couple of weeks. The end posts and stakes are in. Irrigation trenches for the main distribution have been dug and the PVC infrastructure is in place. The bottom row of wiring that supports the drip irrigation tubing is now in as well.
Our voluteer team will be busy with a number of projects including general clean-up, weed removal, rock picking and some tree triming. We project the actual planting of the vines by the end of the month.......patience and hard work will be rewarded!!!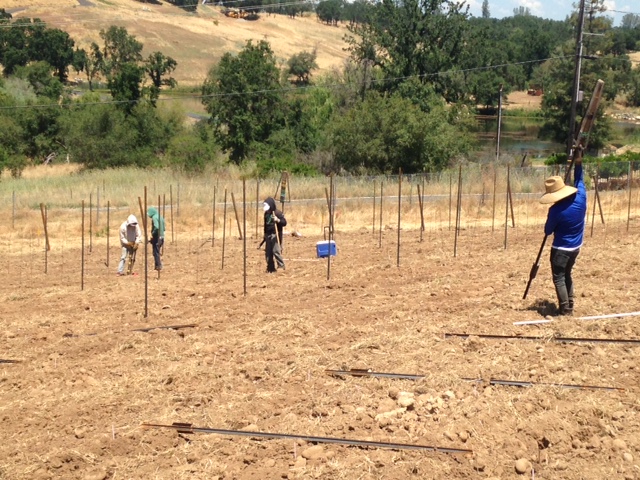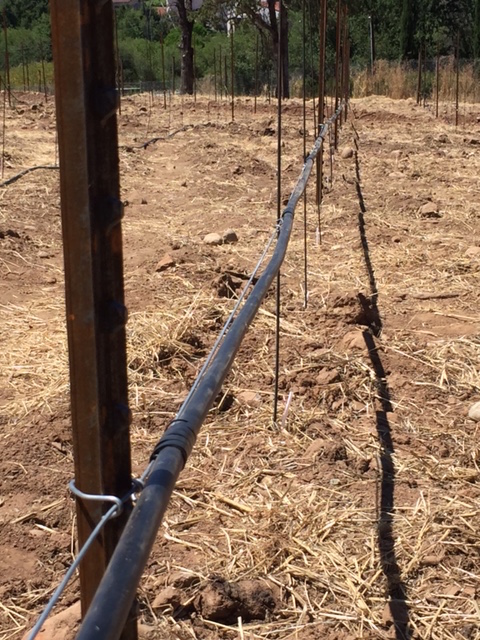 The vineyard development at the Mount is well underway yet I still need to take care of the 2017 harvest in my vineyard.
The Aglainico and Negro Amaro vines need t be protected against mildew. Beginning at 5:30 a.m. I'm able to treat 1/2 of the vineyard before I get over to our vineyard at the Mount to open the gate to begin today's development.
Tomorrow is another day....5:30 a.m. to spray the other half of the vineyard for mildew and then back over to the Mount vineyard for another full day of development.
To paraphrase Yogi Berra.........a farmer's day is never over until it's over!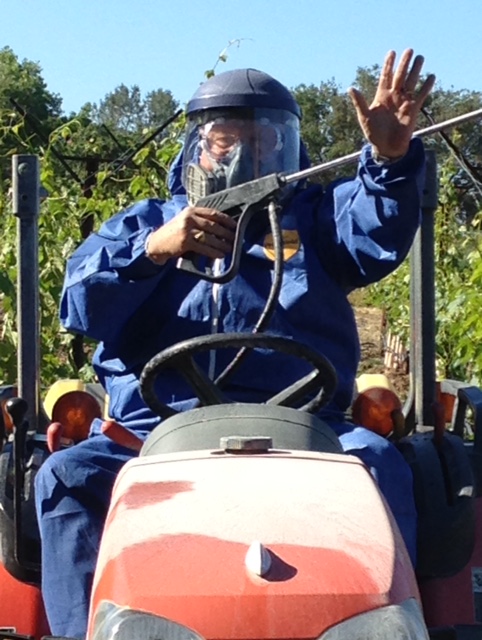 Two of the questions I've been hearing constantly over the past few months are....When will the vineyard work begin? and.... Can I help?
Well, the answer to the first question is now! As you saw in yesterday's blog post, marking the end post locations is being done with the actual end post installation happening next week.
The second question is answered with the photo below. Already Bob Vandervort has taken the "Can I help" message to heart. Here he is cleaning out the ditch water so our new pump station will be free and clear of debris from this year's massive amount of rain fall.
Not only is Bob cleaning out the canal, he (along with Allen Cummings and Mike Jones - two other Mount Saint Joseph Wines owners) are working on plans to construct a shelter from our new pump station. See the second photo as the three of them get started on this project.
This is truly an exciting time - check back often to this website and keep up with our progress over the coming weeks!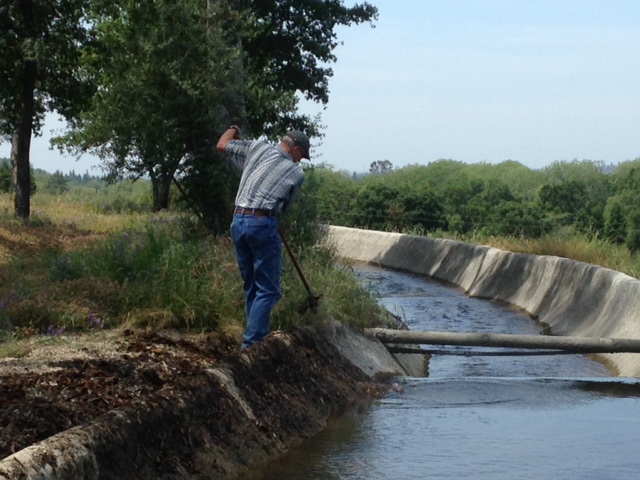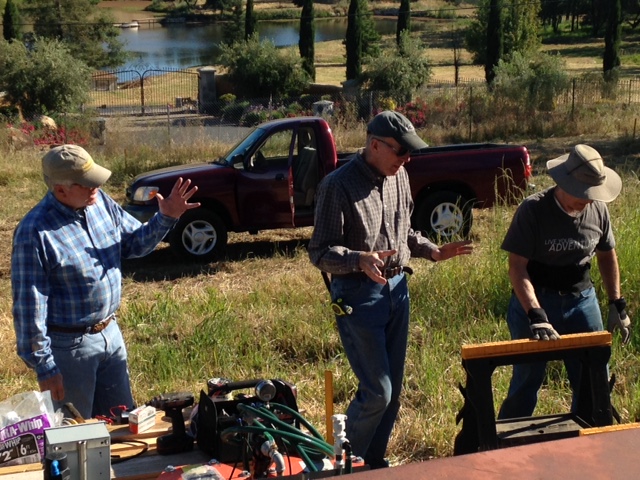 Jamie Rojas, owner of 2nd Generation Development out of Napa, is seen here on site with his crew. They are mapping out the placement of 278 ten foot vine end posts for the vine rows in the vineyard. These vine end posts will be driven some 4 1/2 feet into the earth! Think of them as the "foundation" for the vineyard.
In the second photo - Jaime marks out where the Boardman Canal (aka "ditch water") conduit runs underground so that we don't hit during construction and flood the vineyard and our neighbors!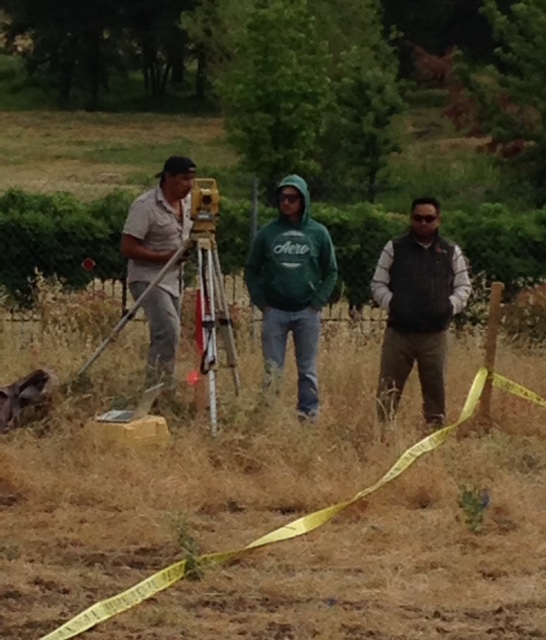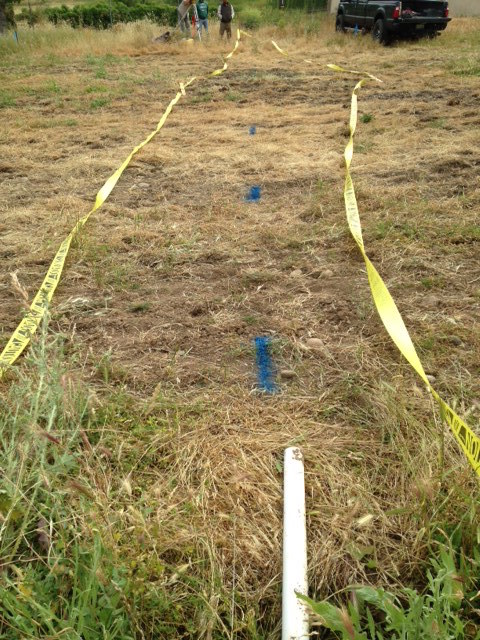 Recently Joe relayed some feedback from a few of you that was disturbing. After opening and tasting the 2015 Sierra Foothills Zinfadel, a few of you said it was "Yucky".
I told Joe..."Yucky - what do you mean, yucky????". This wine was great when we bottled it back in February!
So Derek and I decided to taste it last Thursday.....and, sure enough, it was yucky. Perplexed at the difference in taste between bottling in February and the present, we decanted the wine and let it alone for 20 minutes and tasted it again. This time the middle pallet was coming back with the fruit that we had remembered from bottling time. We then tasted four hours later....now, that was more like it! Finally, later that night at dinner I had a glass with the short ribs Paulette had made - "yucky" wine had become great wine.
We have pulled the 2015 Sierra Foothills Zinfandel off the market for now and we will release it again in September. The additional four months of bottle aging will allow the complex elements in the wine that have become disjointed to recombine. For those of you who have a bottle from your February wine club shipment, here are your options:
If you haven't opened the wine, lay it down until October/November and then open and decant and enjoy!
If you have opened the wine and it tasted "yucky", let me or Joe know and we'll get you a new bottle and you can follow #1 above
While I won't go into detail about the business reasons for releasing this wine sooner than we ordinarily would, we have learned from the experience and will now follow the words of Orson Welles (Paul Masson ad circa 1979):
"We will sell no wine before its time"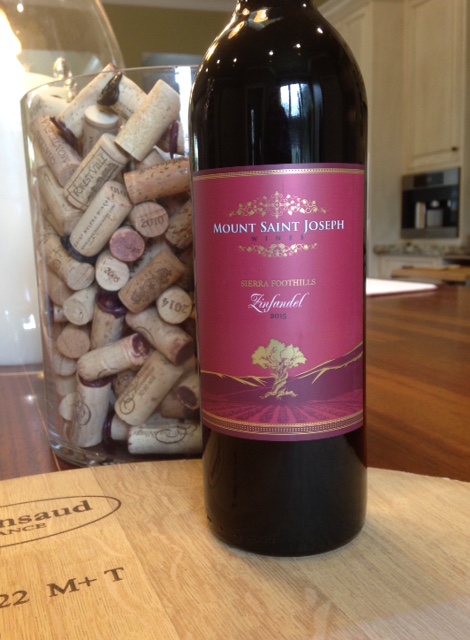 It is February 2017 - time to begin the bottling the very first our 2015 harvest grapes.

Last week we bottled the first of our new "Sierra Foothills" wines, specifically our 2015 Sierra Foothills Zinfandel. We have created a Zinfandel blend that is truly unique. It is deep in tannin structure with an extensive middle pallet and a long finish that will beg the question - "how did they make that from Foothills grapes???".
While we won't release this incredible Zin until early April, Joe convinced me to include it in our wine club orders later this month. In fact, I might just bring a few bottles for sampling to our "Fat Tuesday" wine club dinner at La Fornaretta later this month. So, if you want to try it now, join one of our wine clubs!

The balance of our 2015 harvest wines will be bottled in the May. The photo below shows our 2015 wines spending their last few months aging in French oak barrels. Get ready for the summer and fall release of these outstanding wines...I know you are going to love them. Trust me, they will be worth the wait.

If you think I sound like a very proud father.....well, yes – I am!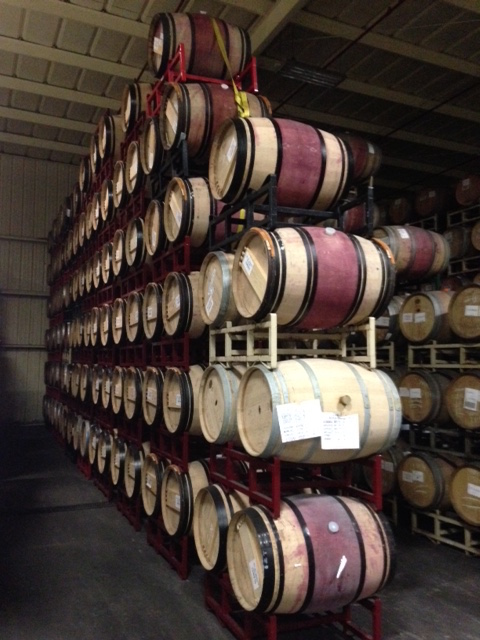 While we had planned for irrigation trenching and PVC piping to be completed by now, the early fall rains have changed our schedule a bit. This is not a problem - we have plenty of time between now and next Spring.
The engineers from Toma Associates spent Thursday laying out the rows and plant spacing so our irrigation contractor can bring in the back-hoe and lay the main PVC irrigation lines as well as the risers to feed the black drip tubes. While the drip tubes will be installed next year, if the rains can hold off until after Thanksgiving, we'll trench for the main PVC irrigation lines early next week.
Off for now...........Joe and I wish all of you a very happy and blessed Thanksgiving!